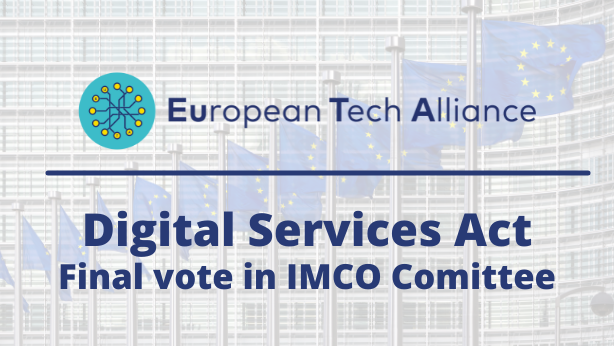 EUTA Statement on the final DSA vote in the IMCO Commitee
Following the vote today on the Digital Services Act, in the Internal Market and Consumer Affairs Committee (IMCO) of the European Parliament,  Magdalena Piech, Chair of the European Tech Alliance said:
"European tech companies stand strongly behind the DSA. It will limit and prevent the availability of illegal content, products and services online and it will create a level-playing field. Trust and safety for European consumers must come first, but the DSA must be proportionate  for European platforms to continue to thrive. 
Generally, IMCO's vote strikes a fair balance, but taking a more practical view on some of the rules would make the text more straight-forward to implement and easier to enforce for authorities. For example, by nuancing transparency obligations, making traceability (KYBC) obligations more proportional or by applying the obligations for VLOPs (Very Large Online Platforms) with  a risk-based approach. 
We would also like to stress that GDPR should remain the reference text for rules on the processing of personal data and the protection of privacy. The DSA has different objectives and should not go beyond GDPR. Any update deemed necessary should be addressed in the context of the GDPR or e-privacy."
For further information, see the EUTA position on the proposed DSA.
About the EUTA
The European Tech Alliance (EUTA) brings together and gives a voice to the major European digital champions, scaleups and leading start-ups. We believe that Europe is good at tech and our sector is driving jobs and growth across the continent. With an overarching goal of fostering innovation in Europe, EUTA members are keen to provide expert insights to the EU institutions and promote EU competitiveness in the global tech space.