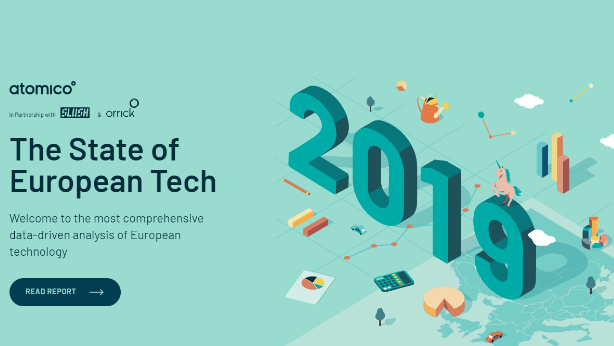 State of European Tech 2019
At a time where 'techlash' is growing across Europe, trust in Big Tech is decreasing and digital champions throughout the region vie to compete with the US and China, the State of European Tech Report gives an overview of European tech's highs and lows in 2019's digital landscape.
According to the report published at the end of the year, 2019 has been a record year for investment in European Tech. The report shows that Europe is on track to surpass $110B capital investment since 2015. Europe has a thriving tech ecosystem: with growing investment and an increase in 'purpose-driven' companies, the report shows reasons to stay optimistic.
Diversity
Amidst this celebration of European digital champions, we cannot get complacent. Despite increased awareness around the lack of diversity, the problem clearly remains entrenched: in 2019, 92% of funding was granted to all-male teams, unimproved from previous years.
This clearly does not reflect our society or encourage a broader array of people to enter the tech sphere. Indeed, of the 1,200 European Tech Founders surveyed, only 20% self-identified as women and there was an overwhelming white majority of 84%. Evidently more needs to be done to encourage an intersectional approach in tech.
We're beginning to see the industry pay attention to other intersections beyond gender, such as race, class, ability and more. This intersectional approach supports and celebrates individuals who have multiple identities, such as black women. – Deborah Okenla YSYS Founder & CEO
Purpose-Driven Tech
Despite painting a bleak picture of diversity, there are signs that the digital world has woken up to other global challenges. As the Commission's Executive Vice President for a Europe Fit for the Digital Age, Margrethe Vestager, has observed: 'Some say China has all the data, and the US has all the money. But in Europe, we have purpose.'
Europe's key market differentiator is our ethical approach to tech, underscored by shared European values. According to the report, there are more than 500 European tech companies that are tackling at least one of the UN's Sustainable Development Goals as a core part of their mission. We're also seeing tech companies in Europe begin to take huge strides towards Greening the ICT sector, such as the companies, such as our member Bolt, behind the Tech Green Pledge, promising to become carbon-neutral by 2030. The data shows that one in five European founders is already measuring its environmental impact. Following the announcement of the European Green Deal, we can only see that increasing with political pressure.
European founders are trying to solve some of world's most endemic challenges, achieving transformative impact on climate change, smart cities, economic inclusion and other imperatives of our generation. – Perry Teicher, Orrick, Impact Finance Lawyer.
Politicising Tech
Zooming in on tech policy, the report argues that to fulfil the potential of European tech, sophisticated and clear policy will be key, and dialogue essential. The European Tech Alliance has always argued that tech companies need to be involved in the policy-making process to create legislation that works for everyone: citizens, businesses, consumers, employers, employees, and investors alike. We are here to share our members' collective experience of scaling tech companies across Europe and be a reference point for EU Tech knowledge. We look forward to working with the new European leadership in the new year.
About the Report
This report was produced by Atomico, whose CEO and Founding Partner is former EUTA President and Co-Founder of Skype Niklas Zennström. Over 70 people and over 20 companies and organisations came together to provide insights and data, including our member King.