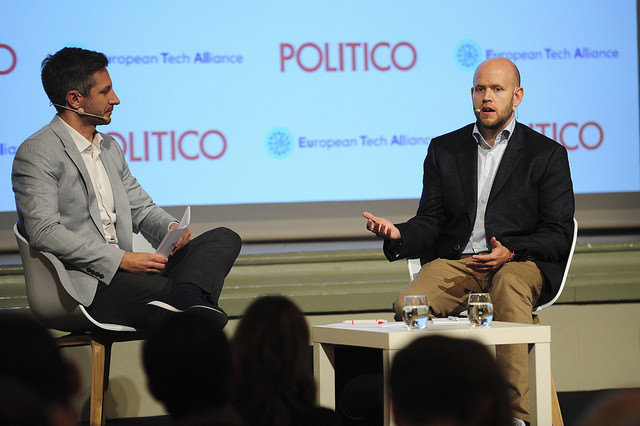 Daniel Ek, Founder and CEO of Spotify, interviewed for POLITICO's Brussels Playbook Cocktail 
The European Tech Alliance was proud to kick off 2018 presenting a fireside chat with Daniel Ek, founder and CEO of our member Spotify, on Tuesday 9 January.
Interviewed live on stage by Politico journalist Ryan Heath, Mr Ek spoke about the progress Europe has made in fostering a tech sector that can compete globally, but warned that much remains to be done. Improvements in the availability of finance and the level of tech talent are creating the right environment, he suggested, and regulators have the right idea in pursuing a Digital Single Market. But Europe needs to go faster on all these trends if it is to create a genuine single market in which more companies can scale up to reach global prominence.
The Alliance was delighted to sponsor the event, which was a great demonstration of the willingness of European tech companies to be a positive force for change. It was a great start to what we are sure will be a fantastic 2018.
For more on the interview, see Politico's excellent coverage here. Additionally, a gallery of the event can be found below.