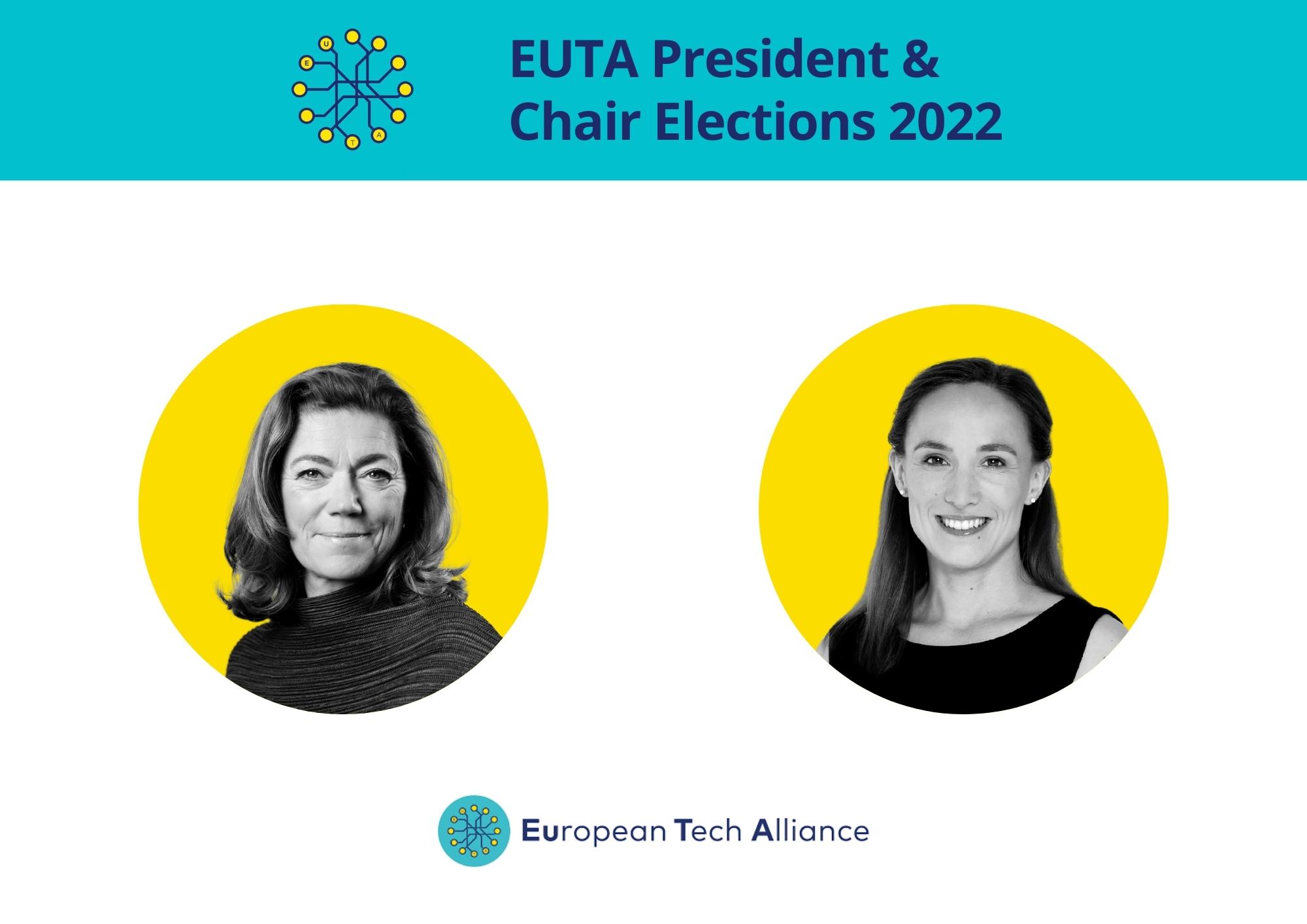 EUTA Leadership Elections: Kristin Skogen Lund reinstated as President, Aurélie Caulier elected as Chair
BRUSSELS, 2 March 2022 – Today, we are delighted to announce that Kristin Skogen Lund (Schibsted) has been reinstated as President of the European Tech Alliance (EUTA), for a second year, and that Aurélie Caulier (Zalando) has been elected as the new Chair.
Following the 2022 leadership elections of the EUTA, the two leaders begin their mandates from today, 2 March 2022. 
Continuing her role as President, Kristin Skogen Lund brings her extensive experience as CEO of Schibsted, a Nordic media and digital company, which has been an EUTA member since 2020. She was elected in 2021 and is the first female President of the EUTA. During her first year, Kristin oversaw the positive growth and transformation of the ambitions of the Alliance, notably through convening the first annual EUTA CEOs Forum, during which the CEOs of leading European tech companies met with Commissioner Thierry Breton and MEP Andreas Schwab. Following her successful first year, Kristin welcomed the opportunity to continue her mandate.
Kristin said on the announcement of her reconfirmation as President:
"I am grateful for this renewed trust and excited about the opportunity to keep driving the EUTA's agenda forward. Over the past few years, both the pandemic and the tense geopolitical situation have highlighted the need for a thriving and independent European tech community, and that Europe needs strong digital companies that develop and deliver services to European users. During that same period, the EUTA has become more of a unifying voice for European tech companies through commitment from member CEOs and dialogue with central decision makers." 
Newly elected Chair Aurélie Caulier is Senior Lead of EU Public Affairs at Zalando SE, a leading European fashion and lifestyle platform, with headquarters in Berlin and an EUTA member since 2019. Aurélie brings with her 12 years of experience in EU affairs and has supported the EUTA as a member of the EUTA's Advisory Body in past years. She expressed her gratitude to members for their support towards a new and bolder vision for the EUTA in the coming year, noting:
"The EUTA's strength lies in gathering under one umbrella Europe's tech champions allowing them to speak with one voice. Over the last years, the EUTA has grown, its member companies expanded too and we collectively have higher ambitions for the EUTA and bolder expectations for the EU's digital policy. I am proud to be able to represent the Alliance as its new Chair. Together with members, I look forward to engaging constructively with all stakeholders in these times of major regulatory changes for the European tech sector."
EUTA members also expressed deep gratitude to the outgoing Chair Magdalena Piech, Regulatory Affairs Director at Allegro. Magdalena has overseen much of the achievements of the Alliance over her three years which moved the EUTA from an early stage initiative to a seasoned stakeholder in the EU regulatory debate.
"During the last years we forged an EU Tech scale ups community and gave voice to the most exciting homegrown European tech companies across business models, member states and sectors. We did it via the 2019 EU tech Vision 5 years from now and numerous contributions to the regulatory debate, internal organisation changes and numerous engagements with decision makers. What's even more important is that we raised the awareness of how essential the European tech sector is for our society, economics and geopolitical position. I am very happy to have contributed to that and I will continue to support EUTA and the newly elected, great EUTA leadership. Europe has more and more tech scale ups and Unicorns which – under the right regulatory conditions – will continue to flourish and help the EU economy thrive."
Our Alliance looks forward to working with the newly elected leadership and to continue to promote European tech and act as a voice for European tech champions across the continent.
About the EUTA
The European Tech Alliance (EUTA) brings together and gives voice to the most exciting homegrown European tech companies across business models, member states and sectors.
Our objective is to create a better future for Europe through technology and based on shared EU values: we aim to contribute to our local economies and build a sustainable, greener, innovative and inclusive Europe for future generations.
Our track record of success highlights the recent growth and potential of the EU's digital economy. With the right legal framework and policies that enable innovation and fair competition for all players, Europe can continue to prosper and produce more global European digital champions in the future.
___________
For media inquiries, please contact:
Elizabeth Wallis, EUTA Secretariat
Rue Belliard, 40
1040 Brussels
(Belgium)
Phone: +32 2 235 29 97
E-mail: info@eutechalliance.eu