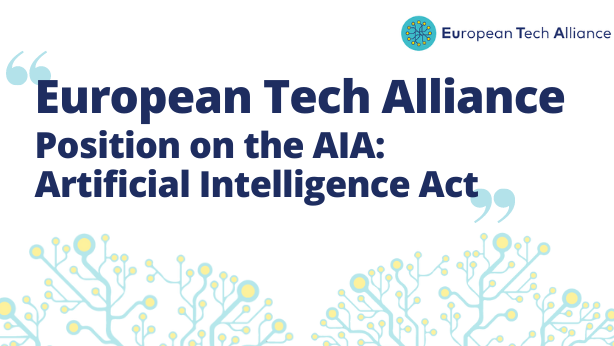 European Tech Alliance Position on the Artificial Intelligence Act
The European Tech Alliance (EUTA) has published its Position on the Artificial Intelligence Act (AIA), which can be found below.
The EUTA welcomes the European Commission's risk-based approach to AI regulation, with its focus on high risk applications. It is vital that the AIA avoids a fragmented approach across Europe and strikes a balance between regulation and innovation.
The following paper sets out EUTA members' recommendations and amendments, which include clarity of definitions and high risk AI practices, competitiveness vis-à-vis third country competitors, fair conformity assessments and legal certainty.
Read our full position on the AIA here.
To find out more on our members' views, see Our Positions.
The European Tech Alliance
The European Tech Alliance (EUTA) brings together and gives voice to the most exciting homegrown European tech companies across business models, member states and sectors.
Our objective is to create a better future for Europe through technology and based on shared EU values: we aim to contribute to our local economies and build a sustainable, greener, innovative and inclusive Europe for future generations.
Our track record of success highlights the recent growth and potential of the EU's digital economy. With the right legal framework and policies that enable innovation and fair competition for all players, Europe can continue to prosper and produce more global European digital champions in the future.