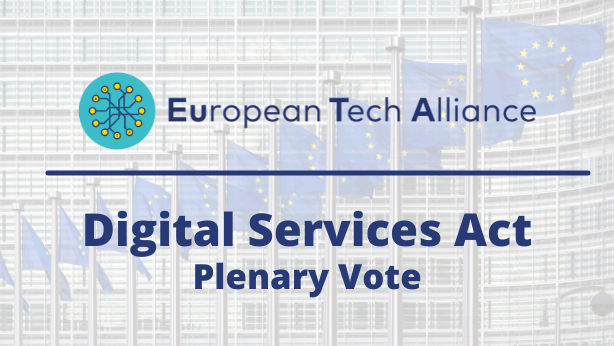 EUTA Statement on the DSA Plenary Vote
Ahead of the European Parliament's plenary vote on the DSA this week, the European Tech Alliance (EUTA) would like to stress three key points:
Firstly, the EUTA continues to strongly support the DSA's objectives of preventing and limiting the availability of illegal content, goods or services. Creating a safe online environment for consumers is of utmost priority to enhance trust in digital services.
At the same time fostering innovation should remain a key priority. The DSA will apply to a diverse range of companies, with different business models and risk profiles. The DSA will only stand the test of time if its rules are clear and proportional, do not over burden companies and work in practice for these many different business models. An overreaching DSA will only leave the very largest players standing. We fear that many amendments currently considered in plenary are not fit for this test.
In addition, the EUTA believes that specific sectoral topics, such as product safety or targeted advertising are best dealt with separately, rather than in the DSA. It is also important to ensure that the DSA does not go beyond existing legislation such as the GDPR, in these fields.
Therefore, the EUTA calls on MEPs to support the rather balanced approach struck in IMCO, considering that most amendments currently considered were already rejected in the Committees after thorough discussion. Ultimately, the DSA must operate as an important horizontal framework fostering the growth of today's and tomorrow's European tech champions. Clearer rules will result in better implementation and enforcement for the benefit of European consumers.
Read the full statement here.
About the EUTA
The European Tech Alliance (EUTA) brings together and gives a voice to the major European digital champions, scaleups and leading start-ups. We believe that Europe is good at tech and our sector is driving jobs and growth across the continent. With an overarching goal of fostering innovation in Europe, EUTA members are keen to provide expert insights to the EU institutions and promote EU competitiveness in the global tech space.