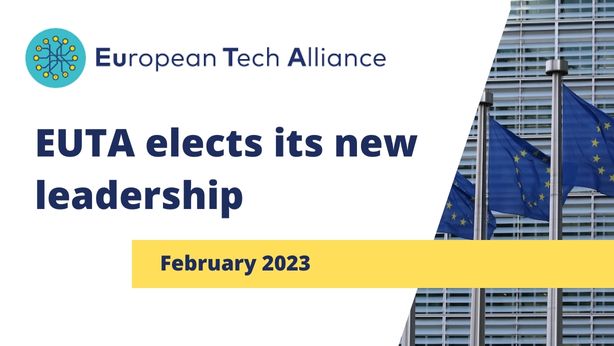 BRUSSELS, 1 February 2023 – In January 2023, the European Tech Alliance (EUTA) members elected nine new Board Members, and re-appointed Aurélie Caulier, Head of EU Public Affairs at Zalando, as Chair of the Board of the EUTA.
The EUTA's Board plays a central role in the strategic direction of the Association and in the supervision of its activities. Board Members are elected for two years.
The work of the EUTA is also supported by its Secretary General Victoria de Posson and its President, Kristin Skogen Lund, CEO of Schibsted.
The Board for 2023-2025 is:
Aurélie Caulier, Chair of the Board of the EUTA,
Head of EU Public Affairs, ZalandoAurélie works at Zalando, the European online platform for fashion and lifestyle, serving 50 million customers in 25 European countries and headquartered in Berlin (Germany). She focuses on EU digital policy and e-commerce regulation. Aurélie has been the Chair of the EUTA since March 2022.As Chair, Aurélie states: "The strength of the European Tech Alliance lies in gathering many European tech champions under one umbrella. Our ambition is to speak with one voice and engage constructively with stakeholders on EU policy issues relevant for our digital companies.
Carolin Wehrhahn, Director EU Public Affairs, Adevinta

Carolin works for Adevinta, a leading European online classifieds specialist, headquartered in Oslo (Norway). Adevinta operates digital marketplaces in 11 countries. The company provides technology-based services to connect buyers with sellers and to facilitate transactions, from real estate to motors, and consumer goods. Adevinta's portfolio spans more than 25 digital brands.

Magdalena Piech, Head of Group Regulatory Affairs, Allegro

Magdalena works for Allegro, the largest e-commerce player of European origin, which is headquartered in Poznan (Poland). Magda served as Chair of the EUTA from March 2018 until March 2022. Magdalena is responsible for digital policy development at both EU and national levels.

Julia Lamb, Head of EU Public Affairs, Booking.com

Julia works for Booking.com, Europe's leading online travel platform, which is headquartered in Amsterdam (Netherlands). Booking.com makes it easier for everyone to experience travel, offering a wide choice of tourism accommodations, flights, local experiences, rental cars and other transportation options.

She represents Booking.com's interests on a wide range of issues ranging from digital to tourism/travel regulation and initiatives.

Cécile Barateau, Director for External Relations, Cdiscount

Cécile works for Cdiscount, the French leader in e-commerce headquartered in Bordeaux (France). Cdiscount, which is active in twenty EU Member States with 23 million monthly visitors, 80 million products and 14,.000 third-party sellers on its marketplace.

Nathalie Laneret, Vice-President Government Affairs and Public Policy, Criteo

Nathalie works for Criteo, the first independent global ad tech provider, providing AI powered ad solutions to more than 22,000 advertisers. Headquartered in Paris, the Criteo AI Lab is the first European private AI lab.

Petra Wikström, Director of Public Policy, Schibsted

Petra works for Schibsted, the largest media group in Scandinavia with leading classifieds marketplaces in the Nordic market connecting millions of users every month. Schibsted also operates digital comparison sites and is a leading Investor in digital start-ups. Schibsted is headquartered in Oslo (Norway).

Eleanor Flanagan, Senior Manager European Affairs, Spotify

Eleanor works for Spotify, the leading global audio streaming service, which is headquartered in Stockholm (Sweden). Spotify has 489 million users, including 205 million subscribers, in over 180 markets.

Robert Torvelainen, Senior Manager for EU Public Policy, Wolt

Robert works for Wolt, a Helsinki-based technology company, active in sixteen EU Member States. Wolt makes it incredibly easy to discover and get the best restaurants, grocery stores and other local shops and provide delivery to its customers.
________
For media inquiries, please contact:
Elizabeth Wallis, EUTA Secretariat
Rue Belliard, 40
1040 Brussels
(Belgium)
Phone: +32 2 235 29 97
E-mail: info@eutechalliance.eu