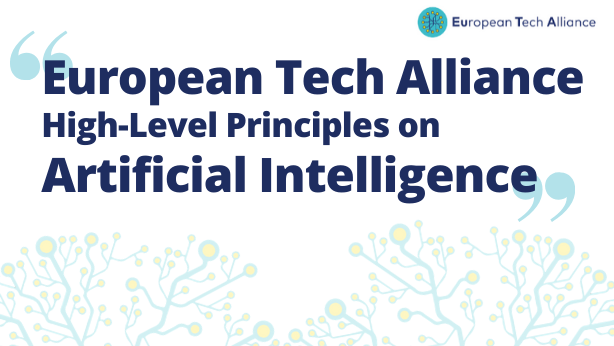 EUTA High Level Principles on Artificial Intelligence
Today the European Tech Alliance (EUTA) has published its High Level Principles on Artificial Intelligence (AI), which can be found below.
For EUTA members, AI is critical to innovate and compete globally. We use AI to enhance efficiencies and productivity while constantly improving the range of digital services accessible to our customers.
We are keen to highlight the many day-to-day applications of AI used by EUTA members, and how these applications bring tangible benefits to EU businesses and consumers alike.
We also recognise that it is useful to identify and address the potential challenges or risks with AI, such as legal uncertainty and ethical questions.
We urge the EU institutions to conduct a thorough assessment of the existing legislation before introducing any new proposals specifically targeting AI-driven technologies and applications. With this in mind, we have set out a series of high-level principles on AI to provide an insight into the key challenges and opportunities facing EU businesses with AI capabilities, and to also ensure the development of a fair and sound AI framework in Europe.