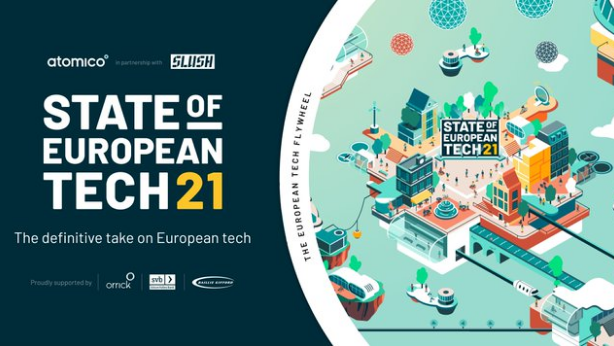 State of European Tech 2021
A year of growth and success for European tech
Following a dip for European tech in 2020, this year has been one of growth and improvement. In fact, the State of European Tech Report, which gives an overview of the tech sector's state of play in Europe, has positioned 2021 as a record-winning year.
European tech is growing faster than ever, now on track to reach $100B (€88.5B) invested in a single year. Unicorn and decacorn growth are multiplying, funding is skyrocketing, and European talent is improving.
Crossing milestones
For the first time, European tech is on track to cross the $100B (€88.5B) capital investment (in a year) milestone, which is close to three times the level recorded in 2020. The pace of investing itself is also picking up, in Q2 of this year alone, we saw 50% of growth.
The report states that this growth has been driven by bigger rounds ($250M+) (€221M) which have increased by a factor of 10 in the past 12 months. In fact, they have doubled in number, breaking another European tech record.
As of now, European tech is going through its most radical paradigm shift, with its contributions to other sectors becoming increasingly meaningful.
"I am very optimistic about the future of the EU as the global powerhouse for startups and innovation. My optimism is based on the data from 2021 as well as prospects for the future" – Mariya Gabriel, European Commissioner for Innovation, Research, Culture, Education and Youth
Talented Europe
European talent is improving, as opportunities to work for well-funded start-ups and scale-ups lend valuable experience to young entrepreneurs. As the report suggests, talent recycling and liquidity is crucial to advancing European operational talent and enabling new companies to successfully sale-up.
This experience is evident in the growth of European companies. Europe is producing unicorns at a faster pace than ever before, with 98 companies reaching this status. The first European company to reach unicorn status did so in 6 years; it took another 4 for the next company to follow. Now, two companies founded in 2018, have been able to achieve this milestone in one year, and another two companies have followed on their heels.
Companies with a decacorn status have also grown. Currently 26 European tech companies hold this title and have a valuation of $10B (€ 8.8B) or more. In comparison to numbers recorded in 2020, the number of these companies has more than doubled. The funnel of future decacorns is also promising, with 30 companies currently valued between $5-10B (€4.4-8.8B).
Despite all the advancements in the tech ecosystem, challenges of raising capital should not be underestimated. This year, one-fifth of founders said it was more difficult to raise capital, while 40% have seen no change in the environment from past years. Distinctions should also be made along racial and gender lines, as 26% of women and non-white founders admitted to finding it harder to raise than 12 months ago.
"5 years ago, you could fit all of the continent's unicorns in a dining room and decry Europe's missing tech giants. Today, you'd need an auditorium with 321 , and you'd hear a completely different story" – John Collinson, Stripe Co-founder and President
European tech and policy
One of the main topics in the EU this year has been surrounding 'Big Tech'. As the report suggests, the main regulatory hurdle limiting start-ups and scale-ups, remains a fragmented regulatory regime, alongside risks of over-regulation which could stifle European innovation. The Digital Services Act (DSA) and Digital Markets Act (DMA) create the possibility of addressing some of Europe's most pressing tech issues.
The importance of these legislations, alongside cooperation, have not evaded the EUTA. In our positions, the EUTA has welcomed the Commission's proposal and supplied relevant company insights to creating a globally competitive and harmonised European tech ecosystem.  Already, the evidence of European growth is evident, as the report states that the European early-stage ecosystem is parallel to that of the US.
"The more we will trust digital technologies, including AI, the more we will use them. And the more we will attract innovative, creative newcomers" – Margrethe Vestager, European Commissioner for Competition
Future of European tech
French President Emmanuel Macron has shared his aspiration for 10 European tech giants valued at €100B by 2030. Despite prevailing issues in the sector, this goal has become more of an inevitability. With the French Presidency of the Council on the horizon, hailing tech as one of its priorities, the tech sector may expect another good year.
About the Report
This report was produced by Atomico, whose CEO and Founding Partner is former EUTA President and Co-Founder of Skype Niklas Zennström. The report was produced in partnership with Slush and Orrick and included over 70 people and over 20 companies and organisations, that came together to provide insights and data.
About the EUTA
The European Tech Alliance (EUTA) brings together and gives a voice to the major European digital champions. We believe that Europe is good at tech and our sector is driving jobs and growth across the continent. With an overarching goal of fostering innovation in Europe, EUTA members are keen to provide expert insights to the EU institutions and promote EU competitiveness in the global tech space.