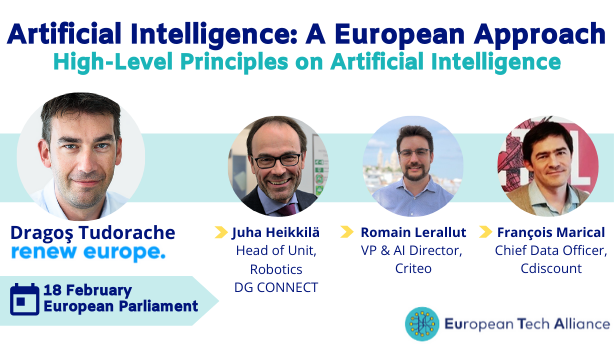 Artificial Intelligence: A European Approach
On Tuesday 18 February, MEP Dragos Tudorache hosted the European Tech Alliance (EUTA) in the European Parliament for an event on Artificial Intelligence: A European Approach.
Mr Tudorache welcomed participants from the Parliament, Commission and other stakeholders, welcoming them to the debate on AI, and commented that:
'Renew Europe's goal is to establish a framework that enables the development of trustworthy, ethically responsible and technically robust AI.'

'AI is a very complex technology which requires complex solutions. It also requires proper understanding from the regulator.'
The event featured an expert panel discussion moderated by our Chair Magdalena Peich featuring:
Dragos Tudorache MEP (Renew Europe, Romania)

Juha Heikkilä, Head of Unit, Robotics & AI, DG CONNECT

François Marical, Chief Data Officer, Cdiscount

Romain Lerallut, VP & AI Director, Criteo.
The discussion during the panel was open and engaging, with policymakers appreciating examples of low-risk AI applications given from members of the EUTA. 
The event coincided with the publication of EUTA's High Level Principles on Artificial Intelligence, which outlines its members' recommendations for the development of a fair and sound AI framework in Europe.
The EUTA's President, Gianpiero Lotito (FacilityLive) commented: "The current AI world landscape offers European Companies the opportunity to be among the main players in this rising field. Artificial Intelligence is de facto 'the next big thing' in the history of the digital world."
The EUTA's Chair, Magdalena Piech (Allegro) commented: "AI makes everyday business activities faster and more efficient, bringing tangible benefits to EU customers. We need a fair and risk-based AI framework that promotes competitiveness, regulatory consistency, and a human-centric approach."
Photos from the event can be found below.